Issues for HD17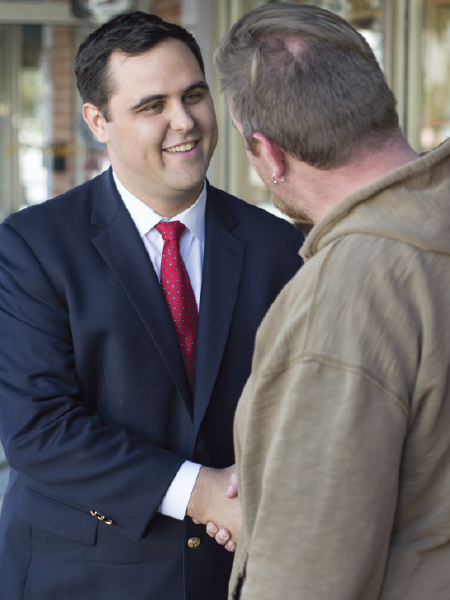 Paulding County is growing, but we can't lose sight of the values that make our county a great place to call home. In the face of a changing state, our elected officials have the responsibility to stand up and fight for life, liberty, and your right to pursue happiness. I refuse to back down, and I will spend each and every day as your State Representative fighting for genuine, conservative Paulding County values.
Infrastructure: Our State's economy is one of the strongest and most dynamic in the country. As a result, we have more people moving to our state and more goods being bought than ever before. Today more than ever we have to be smart about how we invest our tax dollars into improving roads, bridges and 21st century infrastructure like fiber optic and broadband expansion into rural communities like ours. These kinds of investments will unlock the potential in our greatest asset, our people and our children, providing new opportunities for people right here at home.
Regulation: As someone who has operated businesses for over a decade, I experienced first hand how regulators can negatively impact job creators and families. I will fight to stop the growing number of burdensome regulations and over-regulators that come from their desk in Atlanta to impact or shut down our local businesses, often due to an increasingly complicated list of possible infractions and regulatory hurdles. I will ensure that the legislature holds bureaucrats accountable anytime they negatively impact a business owner or job creator.
Taxes and Spending: We must transition Georgia away from an income tax system to a consumption based model. People should not pay the government for having a job. However, this also requires a more conservative budgeting philosophy that invests in core government responsibilities and eliminates unproductive bureaucracy.
Conservative Values: I believe in American exceptionalism and a superior American value system and culture. The success of our country is found in traditional, conservative values, those of our Founders, and the values instantiated in the Constitution of the United States. American exceptionalism is rooted in the traditional family, a high trust society of law and order, a shared culture, and the American ethos of hard work and self-determination. These facets of our American tradition create the cornerstone of the American dream. I believe it is essential to conserve and protect that cornerstone for future generations.
The 2nd Amendment: I will strongly protect the 2nd Amendment. As a gun owner I believe in the right to keep and bear arms, not only to protect myself and my family from intruders and those who wish to do harm, but also to protect my family from government tyranny as was the intention of the Founders.
The 1st Amendment: I support religious freedom, including the right for people to pray, worship, and exercise their religion without interference from the government. I will support legislation that will protect Georgian's rights to worship without interference from bureaucrats or predatory regulatory bodies.
Pro-Life and Life at Conception: As a Christian, I believe that life begins at conception, and I will do everything in my power to make sure that any legislation that comes before me at the State House will respect the miracle of life. It is critical that the State of Georgia foster a culture of life and that the right to life, liberty and the pursuit of happiness is protected no matter how vulnerable the person may be.
Prayer: Not only will I protect our religious freedoms, but I will pray for guidance on these issues as they come before me at the State House. I will pray for wisdom and guidance from God our Creator for every vote and every decision I make as a Georgia State Representative.